Reviews – they're everywhere but some brands seem to excel at them and have 1,000's of positive reviews, reaping the benefits of more effective marketing and brand building whilst others languish with hardly any reviews and poor star ratings.
So how do these brands that have nailed review generation do it, and what do they do when they get positive reviews to maximise the results from every marketing activity thereafter?
This definitive guide will take you through exactly how to ask for reviews, when to ask, how to automate the process so it can grow as you scale, and most importantly where you should be pushing your reviewers to leave their reviews. It will also take you through what you should do with all of your positive reviews once generated and how to handle the negative ones (which will pop up from time to time).
Download this guide as an eBook
I spent months researching how to generate and then use reviews. It then took me 65+ hours to write this 9,490 word guide.
While it won't take you 65 hours to read this, I realise you may not have the time to read it all now.
Click here to download this guide as an 80-page eBook – print it out, read it later, or share it with a colleague (you'll need to disable AdBlocker if you have it).
Contents:
First, Some Disclaimers
If your product/service or customer support SUCKS then you need to fix that first. To get positive reviews you need product/market fit & genuinely happy customers who love your product or service. If you scale up your review generation activities before then, you'll generate a much higher proportion of bad reviews and they'll be with you forever. So if you need to bookmark this guide and fix your product/service/support team first – do it – the results will be worth it later on.
Also, despite the title of this guide, if you do not have 1000's of customers already, you're not going to generate 1000's of positive reviews. But I will show you how to set up a system to get reviews in the right place, and how to automate it so it can scale as you grow & get you there one day (without you needing to think about it too much).
This guide will also focus on text-based reviews as that is the default option for most review platforms, but you can apply similar techniques to generate video reviews. If the majority of review platforms focus on videos (which according to this release about a patent Amazon just filed might not be too far away) then you should definitely be prioritising those over text.
Lastly this guide is not about getting fake reviews. You can do a search on a website like fiverr.com using the search term 'review' and there are almost hundreds of results from people offering to 'write a great testimonial for your product or service for $5'. Despite this looking like the easiest/best path, it's a short term option that won't bring you long term success and may get you barred from one of the major review sites.
If you like the idea of fake reviews though, a must-watch for later is this awesome video about a Fake Restaurant "The Shed" that gamed its way to be the #1 ranked Restaurant in London on TripAdvisor. A pretty crazy and interesting story!
Right, disclaimers finished, lets get into it…
Reviews vs Testimonials vs Feedback
There are a few terms that people seem to use quite interchangeably in the industry and in various guides have been combined, but Reviews, Testimonials and Feedback are actually all pretty different:
Review: A review of the product or service and how the experience was, to give insights to other prospects thinking of using them. eg. a Facebook review.
Testimonial: An extension of a review in which a positive review is expanded on and utilised by the company to show happy customers. eg. a video testimonial.
Feedback: Private feedback given from a customer or prospect in order to help the service/product improve. eg. a "how did we do" survey.
Throughout this guide I will be focusing on Reviews and how to get them, but this will naturally lead to you generating both testimonials (from the positive reviews you've received), and feedback (from the content of both negative & positive reviews) you can use to improve your business.
So who are doing reviews well?
Companies Doing Reviews Right…
Amazon
First up, and as expected, a brand you've definitely heard of before – Amazon is arguably the king of reviews. On just one product they have 166,000 reviews!
How do they do it? Well they're pretty good at logistics so know exactly when you've received the product and trigger a review request a couple of days later, once you've had time to open and experience the product.
The review request actually asks you to rate both the seller and how the process was PLUS the product, which is a bit different but something we detail in one of our hacks later in this guide. Both take you to simple forms, not asking too many questions (which is important).
The product rating form:
And the seller rating form:
They also use push notifications/mobile alerts via the app or SMS which update the order status, including once it has arrived:
Clicking on this takes you to more information containing call to actions to leave a review:
TripAdvisor
Another brand you've definitely heard of and have probably left a review on – TripAdvisor.
As you can see, they dominate the travel industry in the total number of reviews which they've grown to 200 million in 2015 and no doubt many, many more million by now!
So how do they do it? They empower the companies on their website. If you book through a company listed on TripAdvisor they offer that company the ability to upload a list of customers manually and trigger a review request on their behalf:
Which takes you to a simple form with a few filters, which will allow other people to quickly see the most relevant reviews once they're in place on the website:
Koala
One a bit closer to home (if you live in Australia) – Koala who sell mattresses and have very impressive digital marketing across all channels.
Koala have reviews in multiple locations – ProductReview, Google and on their own site:
Totalling over 12,000 reviews to date and growing fast:
How? Well they trigger the same email twice, one week apart with different but pretty similar subject lines after you purchase:
First: Please review your recent purchase at Koala Mattress
Second: Please review your recent purchase at Koala
With the email very simple with functionality that allows you to write the review right into the email:
They also encourage social sharing of your review at the end which is a cool touch:
And Some That Aren't Doing Reviews Well…
I could go through hundreds of companies doing reviews poorly, but here are a few examples of big Australian brands:
There are so many examples there is no point picking on them but have a think – is it because the product/service sucks or they just suck at getting reviews/haven't got a strategy? Or a bit of both?
I am on the "bit of both" fence as I know regardless of whether they have issues with their product/service, a review generation strategy which encourages customers to leave a review will definitely be able to increase the number of and positivity of reviews. When combined with a strategy that helps them respond to negative reviews, they will be better at stopping the damage that negative reviews are currently doing to their brand & sales.
So with that, lets delve into, why reviews matter?
Why Reviews Matter?
Whilst I am going to teach you how to set up an automated review generation strategy, there is still a lot of work involved and ongoing hours spent managing both positive and negative reviews.
But is it worth it? Do reviews matter enough to be worth your time and focus?
Statistics
Well, there are stats everywhere which show the impact of reviews with surveys and polls frequently finding the positive impact they have on consumers:
You can literally go to Google Images and type "review stats" and you'll find thousands. But rather than run you through all of them just have a think – have you personally used reviews and have they influenced you to purchase before? Its a rhetorical question since you're reading a guide, but my bet is YES you have – and if you haven't you're definitely in the minority.
Split Testing
Rather than looking at polls, surveys and stats I prefer to look at actual hard data to prove reviews have a positive impact. For example, the results of testing for this eCommerce company which split test all of its product pages and changed the "why buy from" section to a "reviews from Trustpilot" section and increased their sales by 58.29%:
The changes don't even have to be major ones – simply adding some excerpts of reviews below the fold of this homepage managed to increased sales by 34%, a pretty major result for such a minor change:
There are a lot of other split testing and conversion rate optimisation examples of how adding reviews and letting your customers tell other prospects about your business (vs you telling them) can improve your conversion rate, and therefore all of your marketing results.
Review Sites As A Channel
Another reason reviews are worth your time is that aggregation sites are starting to become channels in their own right, and are becoming a place consumers head first to drill down on the the product or service they are after and find top rated companies (vs finding a company then using review sites to vet them).
This subtle change, along with the SEO rankings that some review sites have for top search terms (ie. "home loan reviews") has meant review sites can be a channel in itself, which can generate substantial volumes of leads and sales. This can also be amplified to increase the volume generated through ad offerings which many of the review platforms now offer.
Here's a couple of good examples of the results being generated from productreview.com.au, Australia's top review site. Yes – that is 898 leads for one company, and $833,000 revenue for another within a year:
Of course because Analytics tracks on a last click basis some people may have exited the website, gone looking for reviews and then clicked back through, meaning they didn't originate at the review site however it will have helped them make the decision to purchase.
So now you're convinced on the value of reviews and are willing to invest your time in setting up a generation strategy, how should you actually generate the reviews?
How To Generate Reviews
Generating reviews is a four-stage process:
Timing: Identify the time that the customer will be most happy with the product/service they received.
Asking: Ask the customers to leave a review and ensure it is an automated process (if possible).
Pushing: Push the customers that are happy to give you a review on the platforms that will give the brand the most visibility, traffic and sales.
Hacks: Use creative hacks to increase the number of positive reviews and resolve any negative complaints before they make it to a review site.
If you would prefer to watch a video summary of this process (without the hacks) see here:
Otherwise, read on and I will drill down into each area further, and in more detail than the video above:
1. Timing
Getting the timing of when you ask for a review right is essential to not only getting them to write a review, but to increase the chances of them writing a positive one. Essentially, you need to ask for a review when the customer is at the height of customer excitement.
Generally this is at one of these times:
Immediately after purchasing your product or service
Immediately after receiving the product or service
Immediately after receiving the promised benefit from your product or service
The last one is definitely the best time to ask but is also the hardest to identify for a lot of companies. To work out this out you could:
See when happy organic reviews were posted compared to when they became a customer.
Split test different times to find out which works best – ie. one email sequence sends after 15 days, one after 30 with results for each measured.
Use surveys, polls and review any NPS surveys you've run in the past to see if there is a common time that people are at their happiest.
Review your competitors who are the most successful in getting reviews and see when they are asking
Actually speak to your customers to get insights.
If you're still not sure on timing you'll either need to manually work this out for each customer, or you'll have to use industry or generic stats from review aggregation sites. Sometimes they detail the best times to ask. ie. based on these stats if you're going to ask, make sure its a Monday from 1-3pm:
Here is a good example of perfect timing from my local pub – asking for a review on a coaster you see once you have finished your beer – peak excitement, perfect:
2. Asking
You shopped with hundreds of brands during the last year and had good experiences, but have you left hundreds of positive reviews for those brands without being asked? If so, you're in the minority!
There have been a lot of studies conducted that show that simply asking for reviews will give you higher ratings than not asking, and that's generally because it is your unhappiest customers who want to vent and who will leave unprompted reviews. They will make up the majority who leave you reviews and your star rating will be much lower than it could be.
"Asking for reviews yields higher ratings (4.3 stars) than unprompted reviews (3.9 stars) – negative people are more likely to review without prompting."
(Source: ReviewTrackers.com)
"7 out of 10 consumers will leave a review for a business if they are asked for it"
(Source: BrightLocal)
So, How Should You Ask?
Firstly you should be specific and simply ask them for a review and a star rating. Make sure not to ask a lot of questions (that becomes a survey) as this will put a lot of people off due to the effort involved. You are asking a favour after all so make it simple.
Secondly, you should personalise the review request with the specific product or service that they purchased – they may have forgotten you by the time you ask.
Thirdly, make sure to use a unique review request. A boring, templated request will be ignored, but one from a personal, replyable email address that is written using your brands unique voice, is far more likely to get results.
A few other things you should also include:
A list of platform options so the consumer can pick the one they're most comfortable with (more on that soon).
A pre-framing opening line such as: "If you've had a good experience please help us out…."
A reason why they should take the time to leave a review – ie. to help out people just like them.
How quick & easy it will be for them to fill it out, for example "it will take just 3 minutes" (hint: long is bad)
A way for them to contact you if they're not happy – you don't want their only way to vent to be leaving you a review.
Another thing to note is you can ask multiple times so don't be afraid to ask more than once – they might not have seen the first request or may not have had time then.There are a lot of different mediums you can ask for the review through and ideally you should ask via more than one.
The most common ways are:
Email
Email is the standard way brands ask for reviews and probably the most effective and can either be automated:
Or manually sent if you've got high-value clients that deserve a personal email and/or you can't setup an automated trigger:
SMS
SMS is starting to be used by a lot of brands, especially local ones – although SMS is more expensive than email it can be a really effective medium to ask due to really high open rates.
Push Notifications
If you have an app or have set up a service like OneSignal or Push Crew you can send push notification for reviews (like Google Maps has started doing recently).
Facebook & Google Ads
You can run highly targeted Facebook & Google Ads to generate reviews, and although these will incur advertising costs you can be very specific with your targeting. For example, only targeting repeat and loyal purchasers who are more likely to give good reviews and who haven't yet opened an email review request.
Offline
If you're an eCommerce store or service based business you should make sure you use offline methods such as leaving a card if you do some work on their house, or putting a letter/sticker/note into each product you post out to people.
Phone Calls/In Person
Asking for a review in person or over the phone will have much better close rates as it is a personal request, and along with manually sent emails, should be the go-to if you have a small number of high-value clients. One of the best points about asking in person is that not many people will leave a bad review with you looking over their shoulder! If they're happy to leave you a review you should also get a quick video testimonial on your phone in person as you never know when it will come in handy.
Automating Review Requests
Once you've decided on the timing and what mediums you're going to use to ask for reviews, the next step is automating the request as it can be very painful to continually send manually (and is something that will eventually drop in your priorities as you get busy).
Luckily, if you can set-up an online trigger for the time your customer is at the height of their excitement (eg. days since they purchased or 5th time logging into a platform) then it's a pretty easy process to set up automated review requests.
Here is an example showing what the automation process may look like. As you can see we paused 45 days after they purchased, then triggered a review request email which we resent 5 days later if the first one wasn't opened. We then finished by applying a tag so we know if they have received a review request (and avoid sending any in the future):

There are some different tools & ways to automate the review process, depending on what type of business you have and what mediums you want to request reviews on. Here are some of the most popular:
Here's Letter Friend which lets you automate handwritten mail – I have never tried it but it would be a pretty effective and personal channel to use:
If you are an eCommerce store and you do setup automation, make sure you don't forget to setup a process which takes anyone who returns your product out of the automation sequence. Here is an example of a review request received after the product was already returned:
Manual Review Requests
If you can't set up an online trigger (eg. because your CRM system won't integrate with your email system or you have to wait for account managers to manually work out timing) then you will have to manually trigger review request emails.
You can still (sort of) automate your manual review requests, for example by creating an email sequence that triggers once email contacts are added into a certain campaign or list. Once the sequence is set up with the correct review request emails then you simply need to upload customer emails weekly/monthly once you're ready to send them the request. Building it as a sequence first will save you recreating a new review request email each time, and will handle any follow-up emails you want to send automatically.
You can also use the platforms direct tools to manually send review requests, for example, in Australia, ProductReview offers businesses the ability to upload emails manually, and trigger review request emails to them. The only downside of this is that it only pushes reviews onto their platform which isn't the ideal setup (but still better than nothing!).
3. Pushing
So now that you know when you're going to send the review request, what you're going to say, and set up a way to automate the process, you need to decide where you actually want your customers to leave the review. This is something I see most brands getting wrong.
Unless you're a review collation website, do not push reviews straight onto your website – there is so much more value getting them placed onto other websites and you can always transfer them back to your website later (which we'll go through soon).
It is also important to make sure you focus on multiple review sites at the same time, as stats show consumers use multiple sites to research so you need to make sure you have a presence on all the major review platforms in your industry.
"59% of consumers use 2-3 review sites before they make a decision about a business"
(Source: Bright Local)
Firstly, create a "Reviews page" on your site where you offer customers a range of websites where they can leave you a review and they can pick the one they're most comfortable with. Make sure to send people directly to the form for each site, not the homepage as it will be annoying for them to try and find the right place. This page should be where all review requests (regardless of medium) send people to so you can optimise and improve it over time.
Here's how it might look on your website:
Once you have enough positive reviews on one of the review platforms then you can temporarily remove it from your list so that the others get more focus and reviews.
Which Review Platforms To Focus On First?
Before selecting a review platform, make sure you actually try leaving a review yourself. If it is a long, complicated sign-up process, avoid that platform – you don't want any friction for your customers, such as this site which makes everyone register and fill out a personal biography before they can leave a review:
Worldwide, the review sites I would recommend you focus on first are:
Facebook Reviews: If you get a positive review on Facebook then customers' friends will all see it which is great advertising. Company pages are also checked by consumers regularly so worth having a good rating on.
Google My Business: Getting reviews on Google My Business will help you rank for local searches & will be shown to prospects in Google products. There is a hack to pre-select a 5 star rating automatically which you can find here.
Business Directories: Business directories like True Local, Yelp & Word Of Mouth can be great options for both local and national businesses and all of the major ones will offer review functionality. To maximise both SEO traffic and the reviews generated, make sure you add all of your addresses/locations individually to the directories.
Amazon/eBay: eCommerce companies should be pushing reviews onto these platforms if they're selling there as it will help them rank in search results and will improve their conversion rate on both Amazon & eBay. See this article for some other tips to help improve your results from Amazon.
If you're in Australia then you should definitely also include:
ProductReview.com.au: The biggest, most well-known review platform in Australia. It has great SEO ranking for terms like "servicename reviews" and a brand name that people are now turning to first, before finding a product/service, so will bring you traffic, leads and sales.
If you're in another country do some research (ie. searching for "reviews New Zealand") to try and find the top review site that has a category for your product or service and ensure you include that site.
You'll notice I left Trustpilot & Feefo off the list and while they're popular and okay websites for review aggregation, they do not get as much targeted organic traffic in Australia compared to sites like ProductReview and thus shouldn't be your first place to focus in my opinion – unless in your country they dominate generic SEO rankings.
Don't Forget Niche Sites
Along with the big sites, make sure you also look for niche review sites for your business – there are plenty of them around and you can easily find them by searching for your service or product and then "review" (for example, "broadband review") or searching for your competitors to see where they are listed (for example "CompetitorName reviews"). Just make sure to check how many reviews are on the site to make sure it is popular before focusing on it.
4. Hacks
Hacks will take the review generation methods highlighted in this guide to the next level and will ensure you not only increase the number of reviews you're generating, but increase the proportion of reviews that are positive.
Hack #1: Filter Reviews By Satisfaction
Similar to how a restaurant would ask people if they had a good dining experience before asking them to leave a review on TripAdvisor, you can ask how happy people are on your Reviews page. For example, at the top of your page before showing them anything else you could ask them to rate how happy they were with the service or product:
If They Select A Score Of 1-6:
You can then show them a customer support form which should go through to someone in your team who can resolve whatever issues they have had:
If they are unhappy make sure you do everything in your power (including refunds) to fix the issue as these are the people who will be bad mouthing your brand offline, and who have clicked through to leave a review before so if the issue doesn't get resolved they will likely leave a bad one eventually.
If They Select A Score Of 7-10:
If they have selected a score of 7-10 then you know there are no issues you need to resolve, so you can push them out to the review sites you selected previously with updated messaging about how happy you are they have had a good experience:
The best part about this hack is that it can work on all the different mediums you ask for reviews on so even if you decide not to use a "Reviews page" you can ask them to score 1-10 on an SMS sequence and then trigger a second message:
Using this hack will ensure your proportion of positive reviews increases and it will give you a chance to find your unhappy customers and solve any problems.
See a more detailed case study on this hack here.
Hack #2: You Don't Need Reviews of Just Your Main Service
What are you giving of value that could be reviewed earlier than the main product or service? An awesome free consultation call that gives heaps of value and proves you're an expert? A simple to use t-shirt customisation process? A valuable free eBook or tool?
Every time you give someone in your target market something of value you can trigger a review request and tailor the questions and messaging to ensure it still looks relevant when people go to the review site.
Here is an example of people reviewing a free consultation call which gave a lot of value with the request triggered straight after the call. The actual service they were selling can take months to complete so this fast tracks the review generation process and manages to get positive reviews off people who aren't even customers yet – with the most of the reviews not even mentioning the call itself.
Hack #3: Incentivise Your Reviewers
It's a myth that you can't incentivise reviews – you just need to give the incentive to everyone, not just the people who give you a positive review.
There are a lot of different ways you could incentivise people to leave a review – you could give a prize, a service/product add-on, competition entry to win a huge prize or you could even make a donation to a charity on their behalf. Here is a couple of examples of brands using incentives well:
Dimmi (the restaurant booking app) gives everyone who places a review "rewards" points which can then be redeemed for dining vouchers:
Carlisle Homes (a home builder) incentivises it's customers by giving 1 in 3 of them a $500 gift card:
Hack #4: You Can Ask Staff/Friends/Family For Reviews (If It's Disclosed)
As long as there is a disclosure in the review, people who know you can leave reviews. For example, your staff could write a review on how great it is to work at your company, and how well you look after customers which could help potential customers get insights into the type of staff they will work with. Or friends could write that "they have been a loyal customer since day one when their friend started the business" and then give insights into the quality of products that the company sells.
Here is an example of someone writing a review for a company they work for: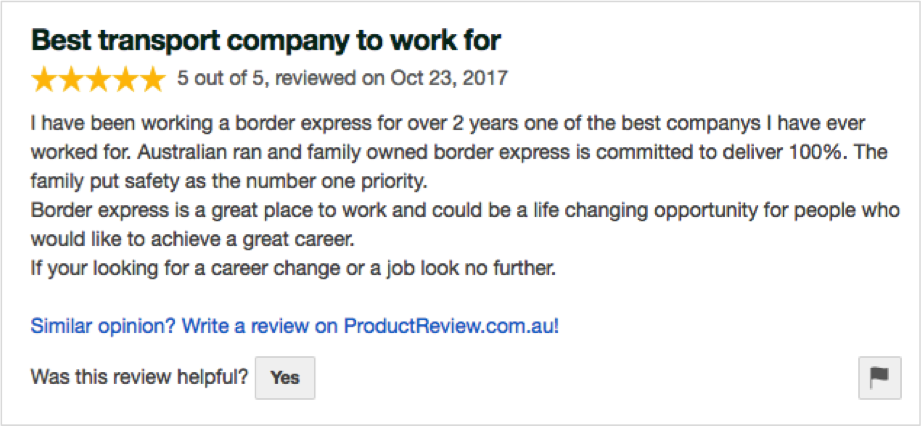 Eventually, these reviews will fall down the the rankings as most reviews site show reviews newest to oldest – but they will still add to the total number of reviews and star ratings with not many people seeing them.
Hack #5 – Maximise Your Surveys/Polls:
If you run customer surveys/polls or use net promoter score, then while you have your customer's attention you should ask them if they would be willing to write a review for you. For example, you could add a question like this to your survey:
If they confirm they would be willing to write a review, you can trigger a review request or you could ask them on the thanks page of the survey – that way you will get more out of every survey or poll you run. If they've indicated how happy/satisfied they are in a previous question you can also apply hack #1 and only ask them if they would be willing to write a review if you know they're happy.
Hack #6 – Use Social Listening
Whilst some bigger brands are using social listening to get involved in conversations and to measure what's being said about them, not many are using social listening to generate reviews – but it can be a really effective strategy.
Essentially, all you need to do is monitor all the major social networks to find people talking about your brand on social media in a positive way – then you simply ask them to leave you a review in the place you prefer (or send them to your Reviews page).
To monitor social networks you can manually search them for brand mentions, or you could use a tool like Mention.com which will automatically email you and aggregate all mentions into their platform.
Here's an example of someone who tweeted about how good a teaching book was. The author of the book then found the tweet, asked for a review on Amazon and they said yes!
Hack #7 – Incentivise/Reward Your Team
If you're serious about generating reviews for your business (and you should be) then you should show your staff that you care about reviews and create an incentive scheme for reviews they generate. If you don't get many reviews, you could incentivise per review or if you are a bigger company you could use a competition/leaderboard with larger rewards.
Incentivising your team is especially important if you can't automatically trigger review requests and need your team to manually decide when to send requests as this will ensure it does not fall off the priority list.
Podium.com reviewed the most common rewards for staff incentive schemes which you can see here:
Hack #8 – Copy Your Biggest Competitor
I've mentioned it before in this guide but I will say it again – if you have a big competitor who is doing really well with reviews, copy what they're doing (and then improve it). They have probably done a lot of testing and it is obviously working, so it should be your starting point. Things like timing, what medium to ask for reviews on, what to say in your review request and where to push the reviews can all be seen by simply purchasing a product from them.
You could also search for "CompetitorName reviews" to uncover where people are reviewing your competitors & use SEO link review tools such as Majestic or Ahrefs to find review sites linking to them.
Hack #9 – Track & Report On Your Reviews
Like incentivising your team, tracking and reporting on the progress you're making on reviews will increase your teams internal focus and ensure their efforts in helping you generate reviews are recognised.
At least once a month you should share how many reviews were generated compared to previous months, the average star rating and any highlights/lowlights in terms of positive/negative reviews that the team can learn from.
Reporting can be done manually by going to each review site you're pushing reviews to or you can use a third party tool such as ReviewTrackers.com or Podium which will aggregate all reviews into one place and give you stats and an easy way to download reports. It will allow you to respond to all reviews in one place so it's a pretty handy tool if you are getting a lot of reviews.
Right so now your review generation strategy is on autopilot and the hacks have taken it to the next level.. Is that all? No! Now you need to actually do things with both the positive reviews and the negative ones. Lets start with the positive…
What To Do With Positive Reviews
So your hard work has paid off and you've got a positive review – wahoo! Most brands do nothing at that point (maybe pop a bottle of champagne) but there is actually a lot you should do with your positive reviews.
Thank Positive Reviewers
First thing to do – thank your positive reviewers which will start the process of turning your happy reviewers into brand ambassadors just by engaging with them. People love it when a brand/company replies to them personally.
Write your thank you message directly on the platform they reviewed you on and make sure to use a personalised response – identifying something out of their review, something you remember of them or something you have looked up so that they know it's not a copy/paste reply.
Here's a great example of a brand replying – they've actually read the positive review, seen what dishes their customer ate and then recommended some new dishes they should try next time. The customer has then seen this detailed, personalised reply and replied themselves with "Wow!" and a promise that they will be back to try the suggested dishes:
If you're getting a lot of reviews on a lot of different platforms and are struggling to keep up with replying on them all, use a tool like ReviewTrackers or Podium which automatically integrates with most major review platforms, pulls all your reviews into the one place and then lets you track and reply to all reviews from the one platform saving a lot of time.
You can take thanking your positive reviewers to the next level if you can measure how many people read that review on your own website or the review website – simply update them later and let them know how many people they've helped which will show them how valuable it was them taking the time to write the review.
Here is a great example of how TripAdvisor measure this and use it to thank its reviewers:
Email 1 (Same Day):
They sent me an email thanking me for just writing a review and I got a reviewer badge – awesome!
Email 2 (Next Day):
The next day they congratulated me and said people are already using my reviews (cool!) then asked me to give them another one and gave me an incentive to do so (100 points!).
Email 3 (1 Week Later):
A week later they sent me an update on the reviews I had written – 1,180 people have already read and loved my review and used it to help plan their travel. Awesome – well worth me writing the review and due to these emails its far more likely I will take the time to write another one!
Get More Reviews
If you get a really good review you should send the reviewer a private message/email asking them to help you out, and also place the review on another of your selected review platforms. They will probably copy and paste it so it won't take them too long and there is a great chance they will do you that favour.
If you get an awesome review, take it to the next level and ask if they would be willing to do a video testimonial for you and get them to film it on their phone or send a local videographer to them with set questions (there are services like 90 Seconds that can do this for you). Video testimonials will do wonders for your marketing and website conversion rate so strike while the iron is hot when you see that awesome review come in.
Learn From The Reviews
Reviews are a great place to learn from your customers and whilst most people take negative reviews on board, they miss a big opportunity in learning from positive reviews.
Some of the things you can learn from positive reviews include:
How your customers speak so you can tailor your copywriting.
What they truly value about your product/service so you can ensure those USPs are front and centre.
New ways they are using your product/service.
Here's an example of a superannuation fund that I work with that constantly gets great reviews. We predominantly market the "fossil/coal free" USP with everything we do, but in looking through positive reviews I noticed that "Human rights abuse" was consistently showing up as a reason customers were happy with the fund. This shows that we should expand our targeting to include this USP and perhaps create dedicated advertising campaigns and landing pages to cater to people who care more about human rights abuses than fossil free.
Another way you can learn from your reviews if you have a lot of them is with word clouds which pull out and give more weight to common words that get used. This will quickly give you an idea on what other people think of your product/service (plus you could use the graphic on your site to showcase to prospects the common themes):
If you want to take the idea of scaping reviews from various sites and looking for the common themes to learn from then you should also check out this article which will teach you how to use import.io and AYLIEN to scrape and analyse the reviews your business has and then group them in a way that will allow you to create unique analyses such as these:
Use The Reviews
Positive Reviews now become testimonials that are SUPER powerful when they are perfectly placed to overcome an objection in your marketing or on your website.
Transferring The Reviews
Since you've sent all of the reviews to third party sites to maximise their value, you should now transfer the very best reviews from each platforms back onto your website, but not just onto a "All Reviews" page. Put the best, most relevant reviews that answer common concerns (ie. speed, quality, size) directly on that service/product page, where prospects may be thinking about the exact same concern. For more credibility when placing the reviews, make sure to use the review site logos and a link through to the actual review, should people want to check it.
For example, on this internet providers' page about their NBN service, we have selected specific reviews about the installation process and put these onto the NBN page rather than just putting generic, un-targeted reviews which a lot of brands do:
Here is another great example of the perfect review placement. On real estate agency, Purple Bricks' website you are given a list of local agents in your area that could sell your house and instead of seeing reviews saying "Purple Bricks is great" you see specific reviews about that agent, with their name so you know that specific person is going to be great to deal with. They also use star ratings and Trustpilots logo for credibility. Impressive!
Imagery
When transferring reviews back to your website it can be pretty tempting to find stock photos and add them randomly to the reviews to show a "real person". This is a bad idea and if someone notices it is a stock photo (and let's be honest, its not hard) then the credibility of the real review will be gone. If you want to use images, get creative like loans.com.au who photographed all of their staff holding a white piece of card so they could photoshop reviews onto them to be used throughout the website – pretty effective!
Search Functionality
Once you build a substantial volume of positive reviews it can be hard for users to find the ones that will help them make a decision. To ensure this doesn't become a problem, you need to limit yourself to just showing a set, small number of reviews in each place.
An alternative to this if you really want all of your positive reviews on your website is to create a searchable database/widget so people can quickly filter and find reviews relating to the concern they have. This is something TripAdvisor does well as you can see in the example below. Make sure to log in Google Analytics what people are typing so you can see common concerns people have, to improve the copy you use on your webpage and fix issues if need be.
Social Proof Widget
You may have seen eCommerce sites and bookings sites like Booking.com popping up small widgets from the left or bottom of your screen every time someone booked or viewed a product – this is called a "social proof widget" and they are extremely effective at making website visitors feel at ease when they see others making the same decision they are about to.
The same thing exists for reviews with an innovative offering from repuso.com which automatically crawls the review sites you're getting reviews placed on and then triggers widget popups to your visitors showcasing relevant reviews – without you doing a thing! Here's an example of how they take a Yelp review and turn it into a small popup which is placed onto the website:
Embedding Reviews
As well as transferring reviews manually to your website, a lot of review sites offer widgets that you can embed into your website. You can't change the way they look easily, but it will save time and looks more credible as people on your site can see it's a genuine review.
On Facebook you can click the small arrow in the top right of the review and pick "embed" which will give you the code to embed that review on your website – users can then click through and see the profile and review are real:
You can do the same thing on Twitter:
There's also quite a few third party websites popping up to aggregate your reviews from everywhere and embed them such as reviewsonmywebsite.com:
Promote The Reviews
As well as transferring the reviews back to your website, you should also use them in your advertising. Prospects are far more likely to believe reviews written by people just like them (in language that they use) than they will believe you.
The different USPs that your product/service offers (ie. fast, cheap, great customer service) will appeal to different buyer personas/target markets so sort all of your reviews by the USP that they show, and then test on different segments to see which can achieve the best results.
Here are some ways you can include reviews in your marketing:
Email
Here's an example of promoting reviews in an email marketing sequence:
Here is another example from one of my clients which is easy to set up as it is text based, but also adds a lot of value to the nurturing sequence of people who haven't yet converted:
Facebook/Instagram
Here is an example of promoting reviews in Facebook ads – this can convert really well if your ad targeting is correct:
And an example of a Facebook carousel ad in which you can feature multiple reviews that can be scrolled through:
Another thing to test is focusing on the number and star ratings you've received rather than a specific example such as in this ad:
And the one from their competitor:
You could also turn a selection of reviews into an animated GIF (using one of these free online tools):
Or into a video that you can promote on social or video aggregation sites such as YouTube:
You can use a tool such as Wave (which supplies stock video footage & customisable templates) to create a video that is better looking than that one!
If you do create a video of reviews, make sure to put everyone who watched it into an audience so you can re-market to them with other conversion focused ads later.
Adwords/Bing
Seller Ratings
You can also get your star ratings included in your Adwords search results:
This is through Google seller ratings, an ad extension which automatically shows in your ads once you have 100 unique reviews from the same country and a star rating of 3.5 stars or higher from these approved review sites.
Unfortunately, whether your ratings are actually shown once you hit that threshold is another thing. From my tests of different industries, Google seems to have limited this functionality to only specific industries or searches, with the majority of search terms not featuring any ads with seller ratings (despite them hitting the minimum threshold). So you're either lucky and they show, or unlucky and they don't – with nothing you can do to force them to show.
If you do want to increase your chances it's worth trialling "Google Customer Reviews" – a tool Google gives you to collect reviews and may be favoured when deciding to show seller rating stars. This tool essentially adds a popup to your thanks page:
Which then emails them requesting they place a review:
Which Google stores on a profile page about that brand:

Google Product Ratings
If you're an eCommerce store you can also have star ratings show at the product level in Google Shopping ads:
These product ratings can be uploaded to Google (like your product feed) and will show in Google Shopping results. The best part about it is that the reviews can either pull from third party sites OR you can manually select and upload the reviews yourself! Clicking on the review in the search results will expand to a page on Google Shopping that looks like this:
Review Extensions
The other way you can use reviews in your SEM is using Bing's review extension (which Google just retired) where you can add a short excerpt of a review on a third-party site to show in your ad:
The best part about this extension is that your customer can click through to the source of the review, for example your page on productreview.com.au and that click doesn't actually cost you. Hopefully Google bring it back, but until then you can always use the text part of your ad to feature a review.
Google Display Network
Here are a few examples of promoting reviews on the Google Display Network which you could use for remarketing, triggered a certain number of days since they visited your site:
SEO / Organic Search
Another way to promote your reviews is to use rich snippets code on your website which will showcase your star rating in SEO results. It is pretty easy to implement and will increase your organic click through rate (as it stands out), therefore influencing your rankings as well:
Offline Marketing
You should also include your reviews throughout your offline marketing, especially if you pick the right reviews. Here's an example of real estate agents using one of their reviews on a billboard. Probably a bit hard to read the full text when driving past but still more effective than saying "sell your house through us because X":
Turn Your Reviewers Into Referrers
Anyone leaving your business a positive review is also likely to refer your business – as they are genuinely happy make sure you ask all of your positive reviewers for referrals.
The best thing to do is to set up a referral program with 2-way rewards so that both the referrer and the referee get an incentive. This will turn your positive reviewer into one of your salespeople, and when they earn something for referring it turns them into further brand advocates.
Of course it is best if you can automate this process, so simply add an extra step in your automated review generation process which triggers an email/SMS to anyone who clicks a satisfaction rating of 7-10 on your Reviews page, telling them about the referral program and encouraging them to get involved.
What To Do With Negative Reviews
Every brand has had them and they hurt!
So what should you do?
Make Sure You Reply!
A Harvard Business Review study showed a 12% increase in the number of reviews and higher review ratings after companies started replying – regardless of what they replied. If you don't reply to a negative review, chances are they will add an update to the review which looks even worse for your brand.
Before you reply, be humble and take on board genuine negative feedback (if it's correct or could be) and make a decision to learn from it. Having this mindset before you craft your reply will ensure you show a brand that cares and wants to improve.
Some Rules Around Replying:
Personalise Replies: Make sure every reply is personalised with specifics about their review. Do not copy and paste an un-genuine "Sorry – contact our customer support team…".
Double Check: If you are relying on what a staff member has told you to shape you reply, make sure you double or triple check the truth from other sources. If you say something in your reply that is untrue the subsequent backlash could be bad.
Take It Offline: Ensure your reply takes the process offline afterwards (ideally to a phone call). You don't want a conversation on the review site – especially Facebook where friends may jump in.
Take The Next Step: Don't make the person who has just given a negative review make an additional action (ie. "email/call us") unless you have no choice. Spend time finding and contacting them.
Document The Outcome: If you have resolved the issue make sure you add an update to the review so people can see the outcome. If you can't get hold of them to solve the issue, include dates you've tried to contact.
Spend time crafting your reply as people will see it now and in the future so it is well worth your time. If you handle the negative review well, it may be seen as a positive by consumers.
Some Examples Of How Brands Are Handling Negative Reviews
To see both the good and bad ways brands are currently handling negative reviews, lets take a look at 3 randomly selected brands on productreview.com.au and access how they handle negative reviews.
East Coast Car Rentals
Review after review, they just aren't doing anything which doesn't look great to any prospects:
Scorecard:
 – Personalised Reply X
 – Take It Offline X
 – Next Step With Brand X
 – Outcome Documented X
Score: 0/4
Mate Communicate
Mate Communicate actually do reviews pretty well, this was just the best example I could find of what can go wrong if you don't attempt to take it offline straight away. For this review they start off strong with a personalised reply however they didn't take the next step to call the customer to see how they could resolve the issue or if they couldn't find them ask them to contact outside of the review site. Here's what happened:
As you can see it ends with Mate Communications blaming another brand (Telstra) and washing their hands of their customers review, as well as not replying to the final question. They were probably correct with their responses but its not a great look for potential customers who would expect their telco to help them deal with third parties the telco has decided to work with.
Scorecard:
 – Personalised Reply ✓
 – Take It Offline X
 – Next Step With Brand X
 – Outcome Documented X
Score: 1/4
Australian Outdoor Living
Finally an awesome example. Australian Outdoor Living installed fake grass for a customer, and received a bad review. BUT they responded with a personalised and sympathetic reply and took on board the bad review.
They also took the next step, with the general manager calling the customer and going out to see them to sort it out. They followed up and documented the outcome on the review, admitting they had made a mistake, had learnt from it and that the customer is now happy with the product/service they received.
Scorecard:
 – Personalised Reply ✓
 – Take It Offline ✓
 – Next Step With Brand ✓
 – Outcome Documented ✓
Score: 4/4
Got A Fake Review?
If you cannot identify a negative review as a customer and think it might be a fake review, many platforms (excluding Facebook) allow you to report the review, in which case the reviewer will have to prove to the site they were a customer in the past. This will usually resolve most fake reviews.
If you're not sure, or can't get rid of a fake review, you should call them out in your reply. However make sure you do it in a genuine, "trying to find out more" way as they may have purchased through one name (ie. the husband) then posted the review under a different name. Calling out an actual real negative review a fake review is sure to wind up and aggravate the unhappy customer – tread carefully here with how you word the reply.
Promote Your Negative Reviews?
The last thing you could do with negative reviews… is promote them?
(view the Facebook ad)
Maybe not but love the idea!
To Summarise
In summary, you need to follow these 5 steps to generate reviews:
Step 1: Send review request using multiple mediums at the time they are happiest.
Step 2: Filter out unhappy customers so you can solve their issues prior to the review.
Step 3: Ask customers to review you on the best platforms with the most traffic/visibility.
Step 4: Use the reviews throughout your website/marketing, and use them to learn what your customers actually value (ie. look for USPs that keep getting mentioned and focus on them).
Step 5: Personally thank positive reviewers and get them enrolled in your referral program. Work on solving any negative reviews until they're happy and then get their feedback removed/updated.
Simply asking for reviews is better than doing nothing at all, so get started as soon as you can and you'll start to see your review count and star ratings increase – not to mention the marketing benefits associated with that.
Any questions? Other ideas? Let me know in the comments – would love to hear from you!