This article originally appeared on Web Profits blog.
After a sunny Sunday checking out multi-million dollar yachts on Sydney Harbour, the thought of boat ownership crossed my mind.
Forgetting the fact that I lacked a million dollars, an evening researching boats led me to checking out "boat insurance"… and what I found was quite shocking.
With an estimated cost-per-click (CPC) of around $11 and 3,600 searches per month, there's no doubt that "boat insurance" is a valuable keyword. And from what I found of the advertisers vying for the top positions, almost all of them are leaking money with Google.
Here are the search results I saw for "boat insurance" on Sunday evening:
A standard set of search results including major insurance brands (as expected) and niche boat insurers.
Immediately I could see there were clear issues with each and every advert and at around $11 a click these issues are quite costly.
Here's a review of each "boat insurance" advertiser including what they're doing well, what they're doing poorly, and how they can improve their performance.
#1 Club Marine
Club Marine are the top ranked ad, indicating they are bidding a huge amount or have a good quality score (and therefore a high click-through-rate), or a combination of both.
The advert copy is pretty standard, utilising the main keyword in the headline as well as letting people know they can get a fast quote online.
The first line of copy "Up to 5% Discount – Boat Insurance" could be improved by adding punctuation after "Insurance", giving Google the option to add the copy to the headline. The 5% discount only applies to "renewals" which may be confusing to some people, and should be changed to a benefit for new customers.
Club Marine do not have any Ad Extensions showing. This doesn't mean they aren't set up (as Google decides when to show them) however the ad could be improved by adding Review Extensions, Call Extensions & Callout Extensions.
Club Marine are one of only two companies taking advantage of Value Track and/or utilising unique destination URLs for each keyword, which is great to see. Essentially this enables you to tag the URL and record what keywords people used, along with other data such as device and keyword position. This data can be then added to lead forms allowing the advertiser to optimise for lead quality, which is essential if you want to improve your profitability over the long term.
The destination URL Club Marine are using is the homepage of their website:
Whilst the homepage banner area has a good headline, clear benefits and a clear preferred call-to-action (Get a quote), a landing page would improve the conversion rate significantly by removing all distractions.
If you are paying $11 per click, ensuring you have the highest chance possible to get your visitor's details is very important – having News, Magazines, Merchandise and other distractions will very likely reduce the conversion rate.
The major issue letting down Club Marine however is the 'Get a quote' process, which goes through a third party (einsure.com.au) and is a long convoluted process that will be losing a huge number of potential customers.
The process is likely hard to change for Club Marine given it's a third party utilised by many companies, so I'd suggest they instead modify their website to capture the potential customer's Name, Email & Phone Number prior to sending them through the process – and if they then don't convert a sales person can follow up and close the deal over the phone.
Action Points:
Test advert copy as per my suggestions
Add Review, Call & Callout Extensions
Create a landing page with lead capture before quote functionality
Add remarketing tags to website for future campaigns
#2 Boat Insurance Quotes
Out of all the ads in the search results, this is one of two that caught my eye and the one I'd likely click.
The headline says exactly what they offer, and they have a partial match domain which will help improve their click-through-rate.
They have relevant Sitelink Extensions in place that will ensure their "niche" prospective customers, such as Jet Ski owners, end up on a more targeted page.
One thing I'd split test (if they aren't already) is swapping out the last line "Boat Insurance Quotes, Cover Online" for one that showed their point of difference (they have access to multiple insurers) such as "Compare Quotes & Buy Online Today!".
The destination URL was their "Buy Insurance Online" page even though the ad copy was more tailored towards people getting a quote. Here is the page:
My instant action on this page after reading the copy is to click the blue "Buy Online" button below the image, but unfortunately this isn't a link and is more a confusing design element.
Scrolling down, this page appears to be just a gateway to a booking portal through Nautilus Marine and an internal page on the Club Marine website (who are in the #1 spot).
There are a few un-gated PDF downloads available and little information other than that. Navigating around the website there is an option to get a quote as opposed to buying online, however with 33 form fields it's unlikely the conversion rate is high.
From this setup it's clear that BoatQuotesOnline.com.au are not concerned with tracking at all; they have no Google Analytics on their site or other tracking programs (that I can see), they aren't tracking clicks off to their partner websites, and likely have no idea how their campaigns are actually performing and the ROI they are generating.
The one major advantage that online marketing has over other forms of marketing is the ability to track, and not taking advantage of that ability and optimising and improving the campaigns based on the data is – in my view – a waste.
Whilst the company did well with their ads, the website and conversion setup are ultimately what let them down.
A landing page setup with Analytics and conversion tracking and one clear call-to-action would quickly improve this campaign and allow consistent ongoing optimisation.
Action Points:
Add Google Analytics to website, track outbound links & setup conversion tracking
Create a landing page with lead capture before quote functionality
Add remarketing tags to website for future campaigns
#3 Steadfast
Steadfast's advert showed up third in my search results. It certainly stood out from the others having the title of "Marine Insurance Broker" despite me searching for Boat Insurance, and this is due to them offering insurance for Business vessels only.
When bidding on a very general keyword such as 'boat insurance', it's important that users are properly qualified or a lot of money will be spent on wasted clicks.
If someone in their target market is searching for boat insurance they likely don't know what Marine Insurance is, so the ad they are currently using doesn't qualify them enough. Here's an ad I would have liked to see instead:
Business Boat Insurance

Tailored Business Boat Insurance.
Expert Brokers. Call us Today!

www.steadfast.com.au 
It's good to see Steadfast utilising Sitelinks, but they've spelt their own brand wrong! Pretty simple mistake to make, but it doesn't give a great first impression.
If Steadfast have a sales team then they should definitely look at enabling Call Tracking extensions to allow their phone number to display to the right of their URL, potentially saving them a click when people call direct.
Here's where the ad took me:
Business Insurance? An image of wine? A clear mismatch between the what I was searching for, the advert, and the landing page.
Further down the page I can see "Steadfast brokers work with industry sectors including, but not limited to: Marine and Boating", so they do offer boating insurance for businesses, they're just not doing a great job portraying that.
Creating a new internal page on their website for each type of Insurance they offer, a landing page for each, or utilising dynamic headlines on their pages would quickly solve this issue and improve results.
Checking out the Sitelinks on the ad, I was then met with this page for two out of the three: "The Steadfast Difference" and "What Our Customers Say":
The dreaded 404 error.
It can be easy to forget about Sitelinks when changing a site and just update an ad destination, and that's what I assume happened here. It's a simple fix in the Adwords campaign but one that should be done quickly, because at $11 per click they are likely losing a lot of money.
For my clients I developed a script to autocheck all ads daily for 404 errors and alert me to any issues, which could be worth setting up.
There are also SEO implications with 404 errors that should be looked at ASAP. If you launch a website and change URLs you should always 301 redirect them to the right location, or any SEO strength you had previously for pages can be lost – more on how to launch a website correctly here.
Ending on a good note for a campaign that can be significantly improved, Steadfast was the only company that remarketed to me on the days following clicking through to the website. And whilst the ads could be a bit more targeted towards boat insurance, it's good to see they are giving it a go.
Here's the remarketing ad they used:
Action Points:
Improve advert copy to better qualify people clicking the ad
Create a lead generation landing page specifically for boat insurance
Add Call Extensions to every campaign
Fix 404 errors in Sitelinks and review setting up redirects to maintain SEO strength
Improve remarketing through more targeted banners focusing on the insurance area the prospect is interested in
#4 Apia
Apia is a company that offers Insurance products for people who are over 50 years old, so whilst the headline looks a bit odd and looks to be more suited towards life insurance it's a great qualifier.
Having a qualifier in your advert stops some (not all) people who are not your target market clicking your ad, saving click costs that never would have converted into a customer.
On the flip side, adding qualifiers lowers your click-through-rate and therefore quality score, which brings your click costs up over time. However I would still have added the qualifier as they have done.
The m.apia.com.au display URL definitely caught my eye as it's usually associated with Mobile websites and I'm searching on a Desktop computer, and sure enough here's where the ad took me:
This is Apia's mobile site and is clearly a mistake considering I'm on a Desktop. This has likely happened due to having just a "mobile only" advert in the ad group.
When Google doesn't find a Desktop/Tablet ad, it will just display the mobile one in its place. Adding a Desktop advert into this ad group will immediately fix the problem. Here is where I should have landed:
Whilst I would have liked to see a landing page, again this internal page is pretty good. Clear, easy to read copy with an image that aligns with the offering, a call to action (Talk to an expert), and even a video. This page likely converts well, however there are some quick wins that should be split tested which will improve their conversion rate and results:
Add a call to action button into the banner area (check out this article for why)
Utilising contrasting colours for the main call to actions
Fix issues with the Video (currently not playing properly on Chrome/Firefox)
Remove the PDS & Supplementary Policy and instead add in the 'Talk to an expert" call to action copy at the bottom of the page
Overall with the mobile landing page issue aside, a great job on the setup and good to see another company utilising Value Track to optimise for lead quality.
Action Points:
Fix the mobile advert issue by adding a Desktop/Tablet ad to the ad group
Split test and improve the internal boat insurance page
Split test a lead generation landing page specifically for boat insurance
Add Call Extensions to every campaign
#5 NRMA
The fifth advert showing was NRMA, and this is by far my favourite ad. NRMA have a well written advert with what looks like an attractive price to me and a call-to-action at the end of the ad.
They are taking advantage of Call Extensions to get their phone number in the ad at no extra cost, and have even taken advantage of the rarely used Seller Rating extension. The 4.5 rating and stars definitely stand out on the page, and will be helping the click-through-rate and quality score.
Interestingly, the rating is actually for their life insurance product not boat insurance so it's crafty getting it into this advert.
The advert took me to this page:
Another brand utilising website internal pages as opposed to the higher converting landing page, however the page is well designed.
The main issue with the page is the call-to-action is to download a PDF Product Disclosure Statement and Policy Booklet. There is no tracking on this call-to-action (that I can see), and therefore the Adwords campaigns are not being optimised by performance – a huge opportunity which is being missed by this big brand.
Improvements I would make to this page include:
Changing the call to action to a "Get a Free Quote" form which captures the prospective customers details to be called later by a salesperson
Adding a headline, sub-headline, and a call-to-action to the image (similar to Apia) to increase the information seen above the fold
Utilising contrasting colours for the main call-to-action button (currently a hard to see 'ghost button')
Ultimately a well set up ad and an okay internal page, but with a conversion of a PDF download the campaigns are likely not being optimised and improved.
Action Points:
Split-test and improve the internal boat insurance page including the call-to-action
Split-test a lead generation landing page specifically for boat insurance
#6 Depth Logistics
Like Steadfast, Depth Logistics offer insurance primarily for Commercial & Industrial vessels, which is commonly known as "Marine Insurance".
Companies such as this are going to find it tough to make keywords like "boat insurance" profitable due to the proportion of consumers vs businesses that will be searching, however with the right strategy it can work.
Depth Logistics need to utilise a better headline which properly qualifies the person, which will stop some people clicking the advert.
The second and third line are totally off topic and are about shipping cargo, which is likely a mistake from copying and pasting campaigns and just updating the headline – not ideal.
I wouldn't have clicked this ad at all given it's completely off topic, however for this review I did and here's where I landed:
Another brand sending me to a homepage instead of a landing page (sigh!).
This is particularly bad as the website is almost entirely about shipping with no mention of insurance. I immediately would have bounced from this page and found a company that can quickly communicate what they offer on their website.
Interestingly, they do actually have a dedicated page on Marine Insurance which they should update their ads to straight away.
The internal page has no call-to-action, distracting social sharing icons which should only be used on a blog or content, and a sidebar with no relevant Insurance information.
I would recommend a complete website overhaul in this case, which would improve the performance of all marketing channels and significantly improve the leads generated from the website.
Action Points:
Add Review, Call & Callout Extension
Improve the ad copy and use the correct destination URL
Split-test a lead generation landing page specifically for boat insurance
Add remarketing tags to website for future campaigns
Completely redesign the website
#7 IC Frith
IC Frith offer insurance for both Commercial boats as well as pleasure boats, and I found their ad in position seven.
The advert copy was stuffed with keywords but is one I would be unlikely to click. Whilst ad copy that matches the search term is important, so is giving more information about the company. Here is what I would have preferred to see:
Boat & Marine Insurance
Specialist Marine & Boat Insurance.
Commercial & Pleasure. Free Quote!

www.icfrith.com.au 
The advert has no extensions added, though the lower your ad position is, the less likely Google is to show them so they may have been added already. Here is where the advert took me:
Judging by the design of the website it's 8-10 years old and could be due for a refresh; that said, the copy on this page clearly outlines the product, details who IC Frith is and is easy to read, which is great.
There is a call-to-action at the bottom for an obligation free quote which takes you to a form and likely works well.
If a landing page is utilised or the design elements of the page are fixed along with improving the Adwords campaign, the leads generated could be substantially improved without too much cost or effort.
Action Points:
Add Review, Call & Callout Extension
Improve the ad copy to qualify users better
Split-test a lead generation landing page specifically for boat insurance
Add remarketing tags to website for future campaigns
Completely redesign the website
#8 iSeek Insurance
It's clear to see why this ad is buried down at position 8 – not one mention of boats, boating, yachts, or marine insurance.
There is no real reason for Google to show this ad higher, and they likely have a warning about low quality score on this keyword due to a low click through rate.
This company is in the same 'boat' as Steadfast & Depth Logistics in that they offer commercial boating insurance but they have more work to do.
Rewriting their ad to bring it in line with the search term should be the first priority, with similar copy to qualify the user as previously suggested.
The advert takes us to this page:
iSeek are currently using their homepage, which again has no mention of boating or marine insurance. I immediately would have left this page.
The website has no Google Analytics and likely no conversion tracking, so they are essentially running the campaigns blind.
I would utilise a landing page and completely rebuild the Adwords campaigns from scratch for this brand, who essentially need to start again and are very unlikely to be getting good results from the ad I found.
Action Points:
Add Review, Call & Callout Extension
Improve the ad copy to align with the search term but also qualify the user
Split test a lead generation landing page specifically for boat insurance
Add Google Analytics tracking to the website and setup goals
Add remarketing tags to website for future campaigns
#9 About.com
About.com are one of the biggest click arbitrage companies on the Internet today, and this is exactly what we see at position 9.
Click arbitrage is where a company buys an advert at a certain cost then sells an advert at a slightly higher rate, making the difference between the two figures as profit. Clicking this advert takes you through to:
That's right, another search results page with Google adverts on them.
If you click through to here then click an advert, About.com would make the difference between what Google pays them and what they paid Google to get you to this page.
Click arbitrage is pretty annoying and is against Google's Terms and Conditions, but About.com continue to get away with it.
#10 bankmecu
bankmecu are ranked down at position 10, and whilst the headline is okay it would be better if they aligned it with the landing page you'll see soon ("Pleasure Boat Insurance").
The second and third line can be improved significantly, because at the moment they could almost be used with any insurance brand and any type of insurance.
Their insurance has some great features such as 24-hour emergency assistance and personal injury cover, and this is what they should feature in the copy instead.
The landing page we were taken to is:
I was hoping to see a landing page off our second last advert but it was not to be – another internal web page. There are quite a lot of updates I'd recommend to this page:
Update the headline to what people actually search for, ie. "Pleasure Boat Insurance"
Remove the unclickable and unrelated Car Insurance advert which is showing above the fold in the key content area
Move the call-to-action to the right or down the bottom of the page, as the website visitor needs to be sold on the website before they will convert – the sales copy should be a lot higher up on the page
Hide the Terms and Conditions on another page – they currently take up half the content on the page, and although I'm not a lawyer I'm guessing these can be sent to a potential customer prior to the sale
Action Points:
Add Review, Call & Callout Extension
Improve the advert copy
Improve the internal boat insurance page
Split test a lead generation landing page specifically for boat insurance
#11 1and1.com
More click arbitrage, here is the landing page: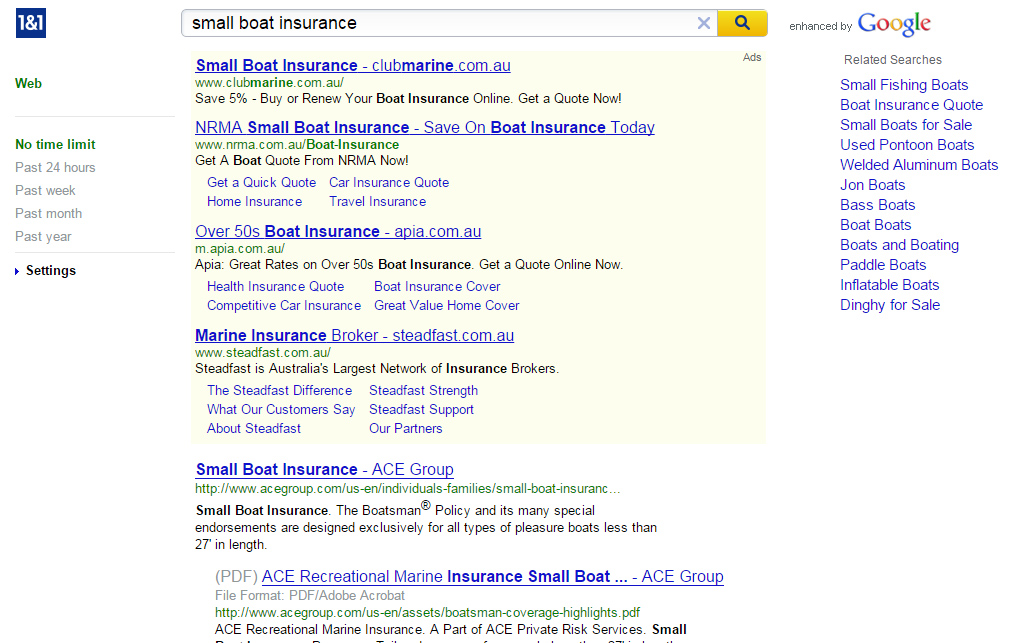 So who is doing the best?
Whilst all adverts and websites had issues, I think that Apia had the best overall strategy.
It's clear to me that there is a lack of decent competition on the "boat insurance" keyword and nobody is running well built campaigns, suggesting huge potential (and probably why there are two companies running click arbitrage on this keyword).
If one of the brands fixed up the issues outlined above and started optimising their campaigns and landing pages for conversions, then they could easily own the sector in Adwords.
Disclaimer
I have not been in touch with anybody from these brands and haven't logged into any of their Adwords accounts, so I don't have the full picture of what they are doing online, what they have already tested, and what their current challenges are. The advice I have provided in this article is based entirely on what I can see online, and how I would optimise their Adwords campaigns based on what i've found successful for other clients.